For further evidence of the complexities and pratfalls of communication, non-direct or "unalienated," please consider the Judith Levy conundrum.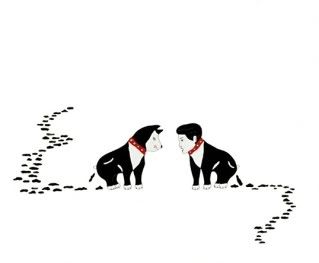 I discoverd
Judith's work
in 2004 in the form of a picture of two dogs, one of them with a human head and a bubble of brunette hair, flying an enormous kite made of pizza. I was thrilled to discover that the art was done not by young lowbrow upstarts, but by an intensely eccentric middle-aged woman, and that the head was hers. I talked to Judy at her Harrison center studio on a boozy Friday night, and her eyes bored into my soul. I decided I wanted to be her when I grew up.
So one day I left a flier of my own dog-themed art under her door.
The crude, low-contrast xerox depicted an afghan hound, not unlike the one above, beaming with a benign and slightly coquettish expression, culled from my then-roomate's book of dog photographs. The intrigue for me was that a pet pic, the bane of the highschool photo instructor's existence, could be so breathtakingly transcendent.
On it I pasted a quote from an Atmosphere jam: "Life's not a bitch, it's a beautiful woman." Motivational art, to make you want to live. A baffler, from one weird dog artist to another.
Now I work at the Harrison Center, where Judith's studio no longer resides. And yesterday, as my co-workers were running through a list of oblique forms of vandalism that had happened in the building over the years, they mentioned a perceived death threat Judith once had received.
a note with a dog, and something about bitches.
I guess we can't control whether or not we make sense.
Leaving flyers under doors is bound to make you feel weird, like the thrill of writing on things in public. Public vs. private visibility. With all art context makes meaning, and when you remain anonymous you might be misunderstood.
We cover ourselves with text not everyone can read clearly. What message are you sending? What aesthetic are you conveying? It floats through the air, an ambiance, till you can't even smell it, you're around it so often, like a house soaked with cat pee.